Freelance Consultant, Curator & Creative Director
Specialising in technology & immersive experiences
About
Katherine is an award-winning Creative Consultant and Digital Producer, with over a decade of experience of bringing adventurous ideas to life. As a Creative lead she's designed experiences for clients including Twitter, the Royal Shakespeare Company and the BBC. She's worked in Digital Leadership roles within a number of arts organisations including Battersea Arts Centre (Digital Producer), National Theatre Wales (Digital Associate), Watershed (Producer). Manchester International Festival (Interim Digital Lead), The Space (Senior Associate) delivering organisational Culture Change around technology adoption and innovation.
Currently Freelance, she is Associé Numérique at Théâtre Du Châtelet, Paris - exploring new artistic initiatives and partnerships, Senior Associate at The Space and a Consultant at the Royal Opera House Audiences Labs, where she is producing ROH's first Hyper Reality Opera. Over the last decade she has produced projects with artists including Thomas Ostermeier, Mary-Anne Hobbs, Jeremy Deller, Bugzy Malone and New Order. Katherine in based in Bristol but working with parters around the globe.
For a full CV, head over to her LinkedIn Page, or scroll down to see some of her favourite projects
Curator / Creative Lead
#twitterLive
#TwitterLive | . April 2016
Instead of creating their usual yearly roadshow, Twitter decided to build an experience for their clients which celebrated the uniqueness of the platform and demonstrated the creativity and passions at the heart of their world.
I worked with the team at Strong & Co and Twitter UK to curate a series of installations that showcased cutting edge artists who use Twitter, Periscope and Vine within their practice; from mind controlled beer pouring robots, to 360° interactive globes showcasing live twitter activity, to cuddly robot monsters who live off hugs and tweets, we had it all.
Producer / Creative Lead
The Rooms
The Rooms
From a playground filled with dancing Elvis' and fabulous beasts, to an interactive light garden, haunted study and enchanted library, The Rooms was a Playground for New Ideas staged in a series of unusual venues in Bristol City Centre.
For three days in November, The Rooms was a Playground for new ideas. Alongside a series of installations showing 53 projects, there was an exciting programme of free talks, workshops, film screenings and house parties.
The Rooms was supported by Arts Council England and the Arts and Humanities Research Council. The Rooms was produced by REACT, who are funded by the Arts and Humanities Research Council.
Digital LEad, Manchester International Festival
What is the City But the People?
What is the city But the people?
This year's Manchester International Festival opened with an invitation – come to Piccadilly Gardens and join friends, neighbours and total strangers for this self-portrait of the city.
Raised high above the pavements, a unique selection of individuals from across Manchester walked along a runway stretching more than 100 metres through Piccadilly Gardens.
All eyes were on the people of Manchester as they become the opening event of the Festival.
With live music from Graham Massey assisted by an unexpected mix of local musicians, What Is the City but the People? captured and celebrated Manchester as never before.
Katherine designed and produced the digital elements of the production, including livestreaming to Facebook and the BBC, with live wrap around content; video screens within the performance with specially commissioned portraits and text and social media strategy around the project.
(Interim) Digital Lead for Manchester International Festival
Digital Associate, National theatre Wales
The Radicalisation of Bradley Manning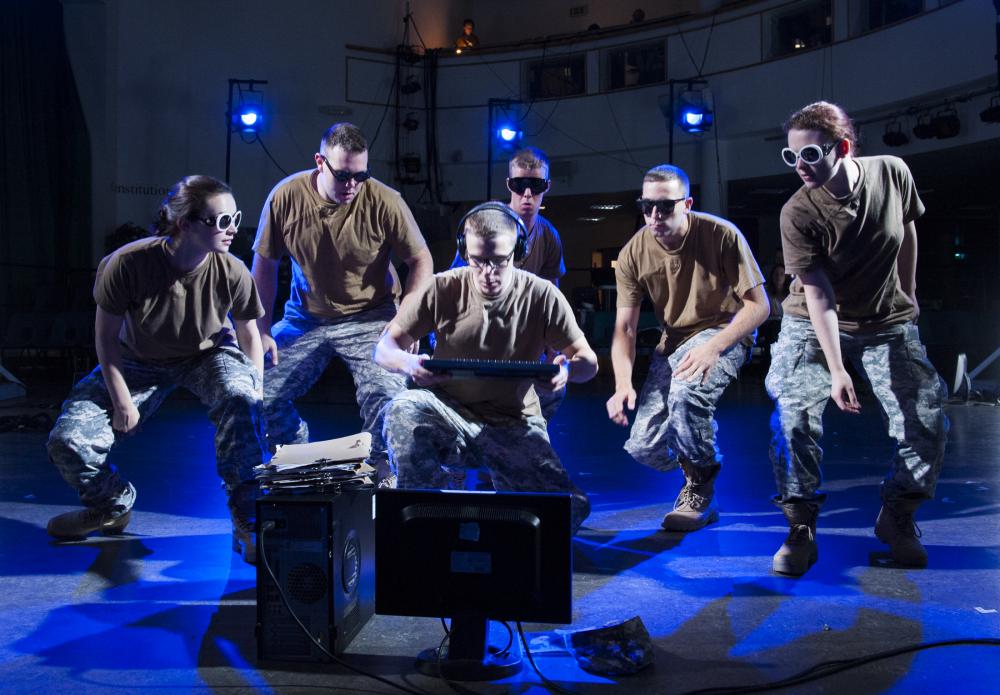 The Radicalisation of Bradley Manning
Bradley Manning is the 25-year old US soldier accused of releasing 250,000 secret embassy cables and military logs from the Iraq and Afghan wars. After more than three years in prison without charge, Manning is now awaiting his sentence, having been found guilty of crimes that could mean life in prison. But just a few years ago, he was a teenager in west Wales. How did this happen? And who is responsible for his radicalisation?
In August 2013, National Theatre Wales took their critically-acclaimed show The Radicalisation of Bradley Manning to the Edinburgh Fringe Festival, and Katherine worked on redesigning the livestream of the production to improve the experience for the digital viewers.
Digital Associate for National THeatre Wales
Over 6,500 audience members watched the Bradley Manning live stream from 1,269 cities in 103 countries. 56% of the audience were based in the UK, while other considerable audience bases could be found the US, Germany, Japan, Canada, Ireland, Netherlands and Australia.

When watching the real time stats, we could see that there was an audience member in Portland (US) watching at the same time as someone in Port Talbot (Wales).

20% of the audience watched on mobile or tablet devices, on a variety of over 60 devices
Digital Associate, National theatre Wales
Branches: the nature of crisis
Branches: The nature of Crisis
In September 2012, Argentinian choreographer Constanza Macras explored the influences of nature in a forest in North Wales. In here first UK commission, she worked with a group of Welsh and Wales-based performers, alongside members of her own company DorkyPark. Combining text, storytelling, live music and movement, Branches: The Nature of Crisis took the audience on a surreal walk through the woods of Wepre Park, Flintshire, entwining the stories of the Mabinogion and visions of the hen parties of Cardiff City Centre.
Digital Associate for National THeatre Wales
As part of my role at National Theatre Wales, I worked to produce the digital elements of this Production, which included a multi-camera, multi-site livestream from a busy high street in Cardiff and a Forest in Flintshire to the Web, Smart TV and a billboard in Cardiff City Centre. There was also an interactive message function between online audiences and people on the high street in Cardiff and the performers in a forest in Flintshire. We worked in collaboration with BBC Cymru and The Space.
Digital Associate, National theatre Wales
Karen
Karen
NTW worked with digital performance pioneers Blast Theory to develop a new theatre production on your phone: an app that mixes gaming and storytelling.
Karen is a life coach and she's happy to help you work through a few things in your life. When you begin, she asks you some questions about your outlook on the world to get an understanding of you.
As the story unfolds and she gets to know you, she gets more and more curious. She seems to know things about you that she shouldn't. Where is this going to end?
Blast Theory makes interactive artworks that invite you to question your place in society. Renowned internationally as one of the most adventurous artists' groups creating groundbreaking new forms of performance and interactive art that mixes audiences across the internet, live performance and digital broadcasting. Led by Matt Adams, Ju Row Farr and Nick Tandavanti, the group's work explores the social and political aspects of technology. Drawing on popular culture and games, the work often blurs the boundaries between the real and the fictional.
Karen is a new work by Blast Theory, developed in partnership with National Theatre Wales, and co-commissioned by The Space and 539 Kickstarter backers. Karen has been developed with support from the Mixed Reality Lab at the University of Nottingham, and in collaboration with Dr Kelly Page.
Karen is still available to play:
Find out more about Karen on Blast Theory's Website
Digital Associate for National THeatre Wales
Awards
Nam June Paik Art Center Prize, South Korea, Winner, 2016

Data Category, Best of British Digital, British Interactive Media Association, Winner, 2015

Innovation Award, Festival du nouveau cinéma, Winner, 2015

The People's Lovie Awards, Experimental & Innovation, The Lovie Awards, Bronze Winner, 2015
Digital Associate, National theatre Wales
Playable CIty : Recife
Playable City - Recife
Recife: The Playable City was an exciting international initiative that brought together creative practitioners from Pernambuco (Brazil) and the UK, to exchange ideas and develop new works that respond to the theme of The Playable City. It was produced by Watershed and run in collaboration with Brazilian Technology Park Porto Digital and the British Council.
As part of the programme, Katherine worked with Leo Falcão, Rosie Poebright, Phill Tew and Daniel da Hora to produce the Woman in the Wall, which took the form of a guided theatre experience, in which audiences 'walked in the skin' of a woman, who was allegedly bricked into a wall by her father for falling pregnant out of wedlock. Featuring performance, phone messages, physical clues and more, this theatrical tour of Recife's Rua do Apolo, was a truly enchanting experience, provoking participants to consider Recife's past, present and future.
Digital Associate for National THeatre Wales / participant
Digital LEad, Manchester International Festival
togather
Togather
ToGather is a major new exhibition and performance by artist Susan Hefuna that was presented at the Whitworth (30 June – 3 September 2017) as part of Manchester International Festival.

Susan worked with 30 local residents, all of whom are from refugee and asylum-seeker backgrounds and have made Manchester their home. Since November 2016, the project brought together men and women of all ages, originally from countries including Iran, Sierra Leone, Pakistan, the Democratic Republic of the Congo, Trinidad, Cameroon, Nigeria, Sierra Leone and Kuwait. The group shared their life stories, memories, thoughts and experiences: through discussions; through symbolic and important personal objects that Susan invited them to share with the group; and through the movements they developed together.
(Interim) Digital Lead for Manchester International Festival
ToGather included a free public performance on Sunday 9 July. The performance saw members of the group trace individual paths through Whitworth Park, joined by dancers from Studio Wayne McGregor and accompanied by a new score by Scanner.
Alongside the exhibition and performance, MIF commissioned International Magic to work with Susan to created a new digital experience inspired by Susan's own drawings. On the day of the performance, the team used motion capture to record the choreography and transmited the data to the gallery and website in real time to create a unique digital moving image of the dancers' footsteps within the park, echoing and tracing their movement.
Susan Hefuna's timely, poetic work addresses some of the most potent issues of our time: migration, movement and sensations of togetherness. Its multiple parts combine into a hugely moving whole, a work of great significance and power on this most urgent of subjects.
Digital Consultant, Manchester International Festival
Bonobo Presents Outlier
WHP X MIF Special Edition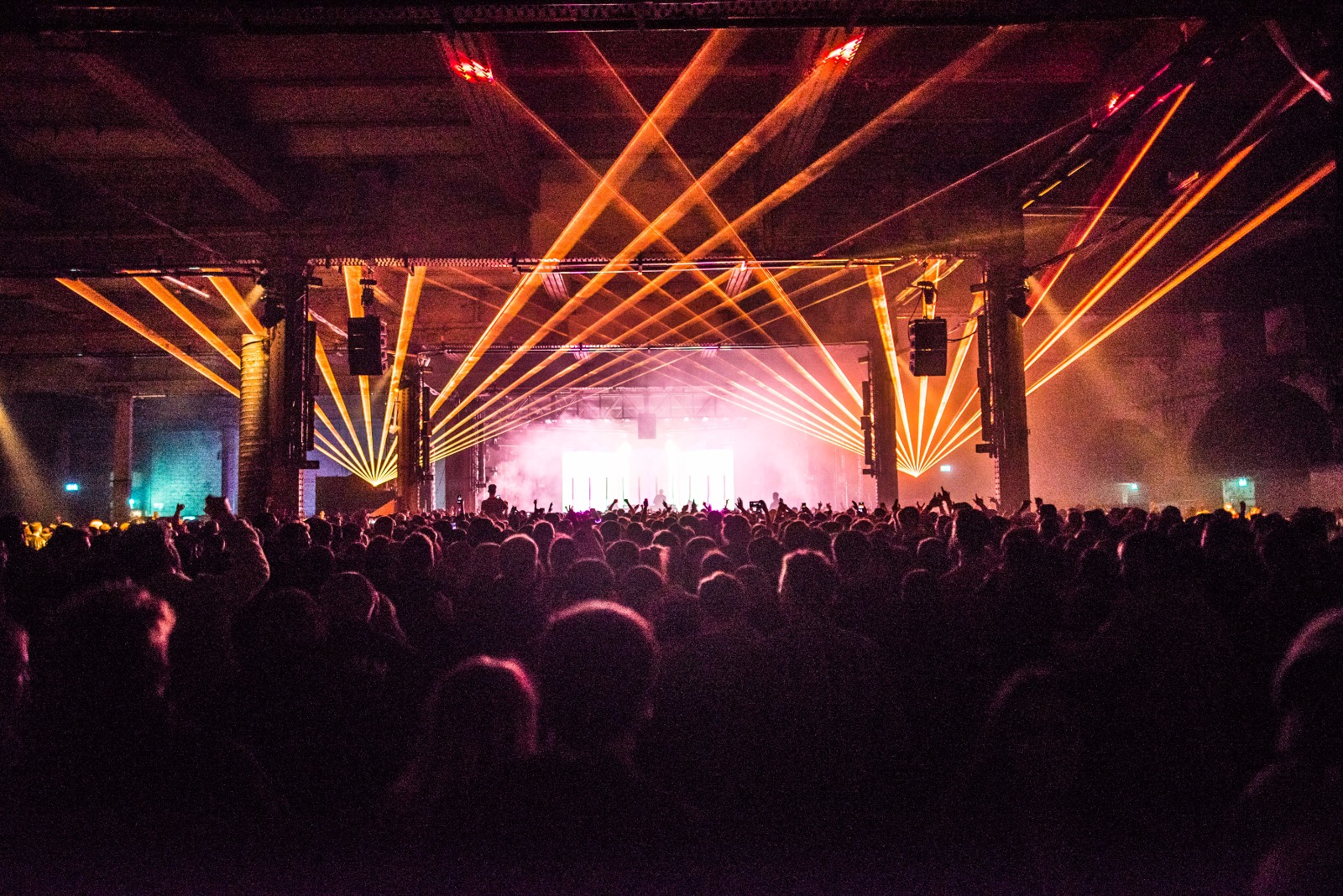 Bonobo Presents Outlier
WHP X MIF Special Edition
As part of Special Edition, Bonobo brings his international Outlier series to Manchester. Previously presented in London and New York, Outlier has seen Bonobo harness his talents as a curator and arbiter of club culture, as well as demonstrating his instinctive relationship with music.

Bonobo will DJ alongside musical purveyor and tastemaker of worldwide sounds Gilles Peterson. Having featured Bonobo on his recent All That Must Be album, George Fitzgerald (live) joins the line-up plus the amazingly engaging Palms Trax and Rinse FM's Josey Rebelle.

A collaboration between Manchester International Festival and The Warehouse Project , curated with BBC Radio 6 Music's Mary Anne Hobbs, Special Edition is a series of unique nights in Manchester's immense and atmospheric Mayfield, a former railway station in Manchester, with lighting designer Stuart Bailes. With support from Sollinger Laser Animations.

Special Edition is part of a series of pre-Factory events, paving the way for the opening of The Factory, a new major arts space being developed in the heart of the city that will be operated by MIF.